Coming Soon to a College or University Near You…
This fall, the Bug Chef will be bringing his kitchen in a suitcase to a couple of institutions of higher learning— Frostburg State University in Frostburg, Maryland and the University of California Davis in (where else?) Davis.
This leg of The Bug Chef's world tour begins on Saturday and Sunday, October 4 – 5, with a pair of bug-cooking demos on the campus of FSU. Then it's off to Davis for what promises to be the entomophagy (bug-eating) experience of the year—Bugs and Beer— on Saturday, November 1.
This second event offers a sampling of eight different edible insects and the beers that go best with them. The Brew Master for this gala is none other than the "Pope of Foam," Charles Bamforth, Anheuser-Busch Endowed Professor of Malting and Brewing Sciences at UC Davis. The entire affair is brought to you by UCD's Robert Mondavi Institute for Wine and Food Sciences. Tickets
For information on either event, or to bring The Bug Chef and his suitcase full of edible bug-abilia to your campus, contact David George Gordon. 
__
Book David George Gordon to Speak — for FREE!
Starting in January 2015, David George Gordon will be available to speak at your public library, community center, school, museum, retirement home or civic group throughout Washington state — for free!
His program "Adventures in Entomophagy — Waiter, There's NO Fly in My Soup!" is presented by Humanities Washington, the state's flagship non-profit for promoting and providing programs based in the humanities.
By partnering with Humanities Washington, Gordon can offer this program at no cost to the public. Host organizations must cover travel costs and publicity for the event, but that's it. Humanities Washington pays the rest.
Such a deal.
More than 80 percent of the world's populations eat insects — why don't we? According to the United Nations, insects could very well be the food of the future.  Raising grasshoppers as a food source could combat world hunger and reduce harmful greenhouse gas emissions by as much as 60 percent. Prepare yourself for the next big revolution in food production — using crickets, mealworms and other eco-friendly alternatives to meat. Gordon's program concludes with free samples of edible insect snacks for everyone who attends.
For more information on how to book David George Gordon, please contact Zaki Abdelhamid at (206) 682-1770 x102 or Zaki@humanities.org.  Funds for this program are limited, so act soon.
__
Bug Chef @ S D Comic Con… in a Food Truck!
The Bug Chef will be making a surprise stop at San Diego Comic Con for two days of cooking— out of a food truck, no less — on July 25 and 26, 2014.
It's all part of a creative promotional event intended to spread the word about an even more creative, fully animated film, "The Boxtrolls."  Produced by Focus Features an based on the popular children's novel Here Be Monsters by Alan Snow, the film tells the tale of an imaginary race of beings who live underground (and, of course, eat bugs) in a fantastical vein similar to Coraline and Nightmare Before Christmas.
The menu for this two-day event will include Boxtroll-approved foods: teriyaki grasshopper kabobs, chocolate-dipped chapulines (small Mexican-spiced grasshoppers) and a few exotic surprises.  Chef Gordon will be onhand to oversee operations, interact with the media and meet and greet the crowds — an estimated 300 enthusiastic diners per day.
"Comic Con is an incredible annual gathering and I'm honored to be a part of it," says Chef Gordon.  "I'm also delighted to be working with Focus Features on what's certain to be another exceptional movie about bug-eaters."
__
Hey, I'm in the NYT's Best Cookbooks for 2013!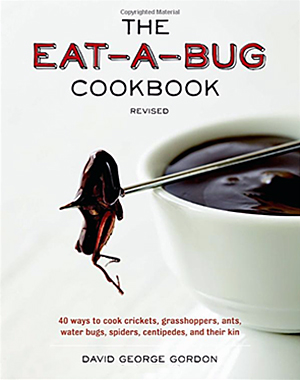 In its guide to the best cookbooks of 2013, the New York Times gave a nod to The Bug Chef, David George Gordon, and his revised an updated Eat-a-Bug Cookbook (published by Ten Speed Press).
NYT food writer William Grimes began his yearly overview by singling out Gordon's opus to edible insects from what called the "yearly avalanche" of cookbook titles.
"When the seasonal cookbook offerings include titles like "Fifty Shades of Kale" and an updated edition of "The Eat-a-Bug Cookbook," choice is not a problem," Grimes explained in his piece.
This has not been the first time that The Eat-a-Bug Cookbook has been identified by the press as a standout among culinary treatises. Publisher's Weekly placed Gordon's cookbook in ninth place on its Ten Weirdest Cookbooks list in 2010.
Three years earlier, the Internet bookseller Abe Books gave The Eat-a-Bug Cookbook its number three slot on its World's Top Ten Weirdest Cookbooks list.  The AbeBooks rankins were subsequently shared nationwide by the Associated Press.
"It's great to see my cookbook, which was first published in 1998, getting some overdue recognition," says The Bug Chef.  "This past year, the UN released a report stating that, to fight world hunger and lessen our impacts on the environment, people should start eating farmed insects," he notes.  "It's nice to say I was 15 years ahead of the UN on that."