Sasquatch: Man-Ape or Myth

Learn about the Northwest's mysterious Wild Man of the Woods from the author of

The Sasquatch Seeker's Field Manual

. Sift through the evidence, both supporting and refuting this fascinating creature's existence — and share your stories and views.
A Resource for Sasquatch Seekers
I encourage people to follow the basic tenets of science while gathering credible data to further our understanding of the Sasquatch.
This page provides a venue for fellow Sasquatch seekers to share their findings and to post relevant and tangential stories, photos, field notes, tips, and links to other websites worth viewing.
Submit material for posting on this page
By submitting text or photos, you affirm that these materials are original and that you have sole ownership of them. If you have web links to share, please include a brief description of the site and its relevance. As moderator, David George Gordon reserves the right to edit any submissions before they are posted on this page. Not every submission will be posted — I hope you understand.
---
Date posted: 3/15/15
By: David George Gordon
Subject: Sasquatch-abilia
Message: Don't you wish you had these handmade garden pavers from a home in British Columbia? I'm guessing they're not very difficult to fabricate.
Follow-up: None
---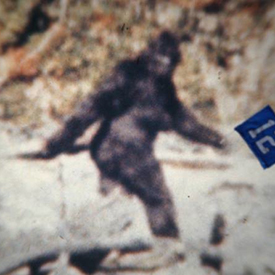 Date posted:
By:
Subject:
Follow-up: